Pug Names Can Tell People A Little Bit About Your Friend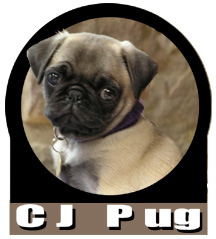 How do people choose Pug names or names for any other dog or pet? It can be very interesting to hear the stories and almost every one of them is different. Each of them say a little bit about their dog as well as their owner.
Some of the stories tell a little bit about the history of the dog itself. The Pug is a very interesting breed and some Pug Names have a link to the history of this very cute little dog. The fact is that this breed has a link to royalty and it goes back hundreds of year to China. Pugs became a favorite in the export trade for those who could afford the finer things in life. It's no surprise that Pugs became a favorite of royalty in England and Europe. In fact we've heard many stories of Pugs who have a royal title in their official name. The titles of Sir, Prince and Princess are quite common in the pedigree of this breed. Who knows what kind of Pug names they had back in Merry Old England.
There are many inspirations for Pug names and we really enjoy hearing those stories. Pug names can say a little bit about you while other Pug names say a little bit about the dog. Many times our Pug names reflect what was going on in the life of the owner when their Pug made its way into their life. Our little Pug was named Floyd after a personal hero - Floyd Patterson who had passed away around the time our family acquired our little friend. It seemed to be a very appropriate name because "pug" is a slang word for a fighter or boxer. Boxing is referred to as pugilism and those who take part in that sport are pugilists. The name got shortened to Pug.
Our Floyd is a little guy with a lot of energy who will bark ferociously if he feels his owner is threatened. Floyd Patterson was one of the smallest heavyweight champions who was known for his lightning speed in the ring. He packed a powerful punch and became the first man to regain the heavyweight championship by knocking out Ingemar Johansson in the fifth round. Johansson was unconscious for seven minutes. Fortunately, he suffered no ill effects from that bout. Patterson was a gentle man in a brutal sport who was known to help his opponent to his feet after knocking him down. Our little Floyd is a gentle little Pug who turns into a pit bull when he senses danger to his owner. For us, "Floyd" is one of those perfect Pug names.
But, obviously, Pugs don't have to be named after boxers. They can be named after people in any profession, even famous ones. Jack Nicholson may be pleased to know that LLZ from Tucson, Arizona named her Pug Baby Jack after the actor. Fran from Philadelphia told us that she named her lovable Pug Winston, after the great British statesman Winston Churchill. Fran noted that Churchill was a Pug owner and that his wife used to tell him that he looked like a Pug! Herlinda, from Hope Valley in Rhode Island, is of the same opinion as Mrs. Churchill. Her Pug reminded her of the great English statesman and she named him Winston. Actually, the official name that is registered with the American Kennel Club, is Pugalicious Winston Puppy.
Pugs do seem to grow into the name that you choose for them especially if the name fits one of the characteristics of these playful little dogs. In fact, Jeanine, from Chesapeake, Virginia was going to name her Pug "Playful" after doing some Internet research and seeing these cute little dogs being characterized as being very playful. She also considered the name Pugg and Puge which means playful little thing. They finally settled on Sandy because their Pug's coloring matches the sand at the beach.
Mischievous is another trait that Pugs are sometimes known for. In fact, Saraswati, from Coimbatore, India wrote down all the words from different languages that meant naughty or mischief on small slips of paper and laid them all out on the floor. It was a little naming party and the Pug was allowed to choose one of the slips of paper. Saraswati's Pug is now named Kako which is Greek for mischief!
And, sometimes the name just fits. Tracy, from Joyceville in Ontario, named her Pug Moose. No good reason, she writes, the name just fit. That is as good as any reason for picking out a name for your Pug. Ofelia from Uvalde, Texas agrees with that. She said it was not easy to choose a name for her Pug but that he looked like a Chico. That became his name! And Tereasa, from Manchester England, gives us a very similar story. After giving much thought to the name for her Pug, when she saw him Tiger just popped into her head. Tiger it was! And she says it was the perfect name.
Devon, from Augusta, Maine, and his best friend went through a book of names for his two year old Pug. They came up with Dexter and think it's a perfect name.
Tayla, from Melbourne, Australia, writes that she knew from the start that her Pug was Melly. She says Melly is an amazing dog and the name fits perfectly!
Jessica, from Lansing, Michigan, tells us that she adopted her senior Pug and kept thinking that her name should be Lucy despite the fact that the people from the humane society said her name was Princess. The name Lucy just fit better with her cute and playful face. We're sure Lucy agrees and thank you for adopting one of these playful and friendly little dogs! That is a great thing to do!
Maria, from Savage, tell us that she named her Pug Frank after the dog's ears perked up when he heard the words Frank the Tank. And Montana, from Los Angeles, California, relates that Murphy was chosen as the name because the dog looks like a Murphy and that it is a cute name. You always want to have a cute name for such a cute Pug!
Shannon from Erie, Pennsylvania tells us that she labored over picking out the perfect name for her new Pug. Her girlfriend was over and said "Come here, Bacon" and the little Pug waddled over to her grunting and looking quite pleased with himself so his name became Bacon.
Linda, from O Fallon, Illinois relates a similar experience. She received a Pug for Christmas and was struggling to come up with a name for him. As the Pug was running through the house she suddenly told him that "you're such a Taz" which stopped him in his tracks. He has been Taz ever since.
Antoinette, from Richmond, Virginia, also tells us a story that leads us to believe that Pugs have a very good idea of what their name should be. They were calling out a series of names and were getting no reaction from their new little friend. Antoinette called out Edy and her Pug came running. They kept the dog occupied and tried a new set of names and were getting no reaction from each one that was called until they tried Edy again and the Pug came running. They tried it a third time and went through another series of names with no reaction until... You guessed it - Edy got the Pug to run to them again. Antoinette had to finally admit it - her new friend's name was Edy!
Retta, from Choctaw, Oklahoma, also put in a lot of thought into the right name for her little girl Pug who seemed to have a mind of her own. Her husband asked if she had finally thought of a name. She explained that, although she had been thinking about names, she was too busy chasing her furry little friend and then it her. Retta named her little girl Chase!
Music can be an inspiration for naming your Pug. Have you ever heard of the Young Money Rapper Nicki Minaj? Well, in El Paso, Texas there's a Pug named Nikki in honor of that singer and Ray is the proud owner! And Sandee, from Ypsilanti, Michigan tells that the name for her Pug came from a suggestion from her husband. He suggested Fosse after the Broadway great Bob Fosse.
Lindsay, from Kitchener in Ontario Canada is a country music fan. She brought home two brother Pugs and named them George and Johnny. George is for George Jones and Johnny is in honor of the great Johnny Cash. And Wanda, from Gulfport, Mississippi tells us that her husband's favorite singer is Jimmy Buffett. Her Pug's name is Buffett, sometimes called JB for short.
And Dolly Parton was honored as well by Jessica from Mobile, Alabama after seeing her in concert. The full name of her Pug is Dolly Pugalicious Parton with the middle name being added by her brother as a joke. The name stuck.
Believe it or not, food can also be an inspiration for naming your Pug and many of our visitors have told us stories about Pug names that are related to food. Michaela, from Winnipeg in Manitoba, tells us about going through numerous food names like Pork Chop and rejecting them all until she got to the name that she settled on: Kiwi. And Jean, from Tuscon, Arizona, tells about her love of peanut brittle and her sweet little Pug who was named after her favorite brand: Sophie Mae!
Honey was the name chosen by Jean, from Americus, Georgia. She thought the name was appropriate in two ways. First, her coloring was just like honey and, second, it also applied to her little friend's personality!
Big Mac became the name that Susanne, from Killeen, Texas picked out. Her Pug loves to eat, but loves his family even more. We hear that a lot about these adorable little dogs.
And Connie from London, Ontario in Canada could not resist the cute sound of a particular fruit: Kiwi. Everyone asks her about her cute little fawn Pug with the cute little name. Connie says a life without a Pug is like a hug without a kiss. We could not agree more!
Sara, from Hephzibah, Georgia tells us that her Pug resembled a food because she was fawn and black and had smallish black dots on her face like a Chocolate Chip Cookie. So, yes, she named her Pug Cookie!
Steven, from Fredrick, Maryland says that his Pug has the coloring of a well prepared Reuben sandwich. He tried out different names but found out that Julius was the name that clicked so the full name of his Pug is Julius Reuben Livesay.
And if Pug names can be inspired by food, how about beverages? Without a doubt. Andrea, from Page, Arizona named her Pug Ke'la. Her middle name became Rose and that was inspired by Andrea's favorite drink, Tequila Rose.
Pug names can be inspired by characters or people in your life. Shelia, from a town called Hodsy-Daisy in Tennessee, writes that they named their new Pug Mister Bean after the English comic and for a neighbor who drives by their house every weekend morning on his way to breakfast. Her husband will say "There goes Mister Bean" and they think that name is absolutely perfect for their little Pug.
The name Bean comes up again for Robin from West Haven, Connecticut. She adopted her Pug from an animal shelter (we love to hear those kinds of stories) that had given her little girl the name of Miss P. She was energetic, happy and cute and she fell in love with her on the spot. That sounds very familiar to almost every Pug owner. When she got home and searched the Internet for the traits of this breed she came across the fact that they are prone to flatulence. As any Pug owner will tell that can sometimes be the case. After talking things over with her daughter they decided on the name Bean!
Sometimes everything just points to the perfect name for your Pug. Suzanne from Bath, Maine tells us about several interesting facts about when they got their Pug. The breeder lived near Wilson Pond. A close family friend with the last name of Wilson had recently died and on one of their favorite TV shows, House, one of the doctors was named Wilson. Needless to say, they love their little Pug and, yes, they named him Wilson.
Brittney, from Canton, Massachusetts tells us that she found her Pug online in the month of May. After bringing her Pug home they couldn't find her until they looked outside. There she was, playing in the field of daisies in the back of the house. Brittney says that there was only one name they could give her: Daisy May.
And Daisy became the name of Lena's Pug as well. Lena lives in Patterson, California and writes that her little friend is playful and happy just like a daisy growing in the sunshine and is her constant companion. She brings Daisy to work quite often!
Jessica, from Chicago, Illinois writes to tell us that her brindle Pug did not have a name at first. They noticed that the Pug made funny noises and jumped around like a cricket. That was it. The Pug became Kricket from that day on.
Fred, from Yuma, Arizona tells us about his adorable little Pug who seemed to be full of energy and wouldn't stop playing around. The Pug was acting a little crazy so, with his Spanish heritage in mind, Fred named his little guy Loca which means crazy in Spanish.
Princesa is Spanish for Princess and Raquel from Los Lunas, New Mexico writes to tell us about her search for name beginning with the letter P. After going through a lot of different choices she decided on Princesa.
Television shows can, indeed, be an inspiration for naming your Pug. We've gotten many stories about Pug names based on a television show. Kaleb, from Livingston, Louisiana, writes that their Pug Suzuki is not named after the car but actually a character in the Ugly Betty show named Suzuki St. Pierre. Suzuki is now referred to as their baby girl and, as most Pugs do, has already stolen their hearts. And the old comedy series "Green Acres" inspired Donna from Hardwick, Vermont to name her Pug Oliver.
The MTV series with Ozzy Osbourne inspired the name of Ozzy for Sherri in Pickerington, Ohio. Sherri just liked his silliness and her Pug is now named Ozzy.
Sesame Street inspired Elia from Stroudsburg, Pennsylvania in naming her Pug long before she ever owned a dog. The name Mr. Murray Sparkles seemed like the perfect name for a Pug and that's the name that was chosen when the time came.
And the Muppets were an inspiration for Many from Sand Springs in Okalhoma. She named her Pug Scooter and, if she adds another one, it could very well be Kermit!
Jeff, from Hixson, Tennessee was inspired by the Disney Witch Hazel character in the 1950's. Hazel, of course, wore black so it was fitting that his black female Pug got the name Hazel.
Lucille Ball was honored by Kym from Dallas, Texas when she named her Pug after the comedienne. She calls her Lulu for short and says her Pug is very funny - just like Lucy. Kym also named another Pug Miss Ling because her boyfriend at the time had a dog named Mr. Ling.
Bette Davis received a similar honor. After all, we do think it is indeed an honor to have a Pug named after you. Jeanette, from Garden City, Idaho tells us about coming home from the Idaho Humane Society (a great place to rescue a Pug). She says her little black angel gave her the clue for her name when she batted her eyes and "smiled". Bette Davis is the star of their hearts.
We love to hear about Pug Rescue stories and Courtney, from Belfry, Kentucky tells us about her uncle who got her a Rescue Pug with an eye condition. Her uncle thought he could use a patch over his eye and that inspired the name of Little Jack. He's named after the notorious Captain Jack Sparrow.
Amber, from Calgary, tells us about the Pug she rescued. The Pug's name was Butterfly. However, the name didn't quite fit because Butterfly was a little obese. Butterfly soon became Butterball!
Joe from Streamwood, Illinois had a Labrador Retriever when he acquired his Pug. The Lab's name was Rocky. The Pug was named Bullwinkle to complete the pair. But that's not the end of the story. Unfortunately, it seems that Bullwinkle got hit by a car and was almost killed. Joe was traveling to the animal hospital thinking he might be saying goodbye to his little friend and holding him for the last time. The good news is that Bullwinkle had spinal surgery and pulled through with an amazing recovery. While he was recovering, guess who brought over his toys for him to play with? Rocky, of course!
Gaby from Los Angeles likes the television show Phineas and Ferb. When she gets her Pug she's going to name it Ferb. And the old Addams Family show inspired Sev from Melbourne, Australia. Wednesday became the Pug's name after noticing how she bore a resemblance to the young girl in the show.
Richard, from East Yorkshire England tells us that he was a fan of the television series 24. When a Pug came into his life he christened him Bauer after Jack Bauer, of course.
The cartoon character Popeye the Sailor was an inspiration for Kelly from Hobart, Indiana. Now, you may think that the name was chosen because of the prominent eyes that this breed has but not in this case. Kelly's husband is a member of the US Coast Guard just like Popeye. That is a great name and we thank Kelly and her husband for their service to our country.
And we all know Garfield's friend Odie. Scott, from Smyrna, Georgia tells us that Odie became the name his girlfriend picked out for her Pug.
The comic strip Peanuts was an inspiration for Kay from Columbus, Nebraska. The family already had a beagle named Lucy which inspired her daughter to name her Cavalier Spaniel Charley. When three Pugs got added to the family they became Shroeder, Linus and Sally!
Even video games can be an inspiration for just the right name for your Pug. April, from Glendale, Arizona tells us that her whole family loves the game Mario. Well, their Pug acted just like a little tyrant with his siblings. Her daughter said that the Pug was acting just like Bowser on Mario. That became the Pug's name.
A video game inspired Amanda, from Bozeman, Montana, to choose Ellis as a name for her Pug. She tells us that, in the game, Ellis is a silly, good natured character who went around cheering people up. Her Pug also seems to know when someone is feeling a bit down and goes out of his way to cheer them up. We agree. Pugs seem to have an instinct for that and bring happiness wherever they go.
Movies, of course, can be a source for naming your Pug. Who could question the fact that the wise Yoda from the Star Wars films didn't have at least some Pug-like characteristics? Joanna from Sagamore Hills, Ohio writes to tell us that Yoda is the name of her Pug. The previous owners chose the name. Yoda follows Joanna wherever she goes. Pugs love their owners and, in case you haven't guessed it by now, owners love their Pugs. In fact, Joanna says, if anything ever happened to Yoda, she get another Pug! We've gotten a couple of comments about Yoda being one of the great Pug names. Sandra, from Rohnert Park in California, tells us that her husband is a Star Wars watcher and thinks their Pug would look exactly like Yoda if she were green. Their Yoda likes to watch TV, whines when she is hungry and will stand on top of you while you are sleeping if "time for potty it is", as the Star Wars master might say.
Other Star Wars characters have been the inspiration for Pug names. Elizabeth from Wheatley, Ontario named her black Pugs Darth Vader and Queen 'Padme' Amidala.
And Sean, from Pittsburgh, Pennsylvania is Star Wars fan as well. He named his Pug Obie Won Kenobe and calls him Obie for short. He's says the force is strong with him and is debating whether to get a second Pug. It would be a black Pug and would be named Vader.
Lion King was the inspiration for Abbie in New Bedford, Massachusetts. Her Pug became Sebastian.
The movie "Men in Black" inspired Beatriz from Montevideo. She wanted to name her Pug Frank after a character in that movie but gave in to the wishes of her 6 year old niece who preferred that the Pug be called Franklin. Frank the Pug from "Men in Black" inspired a few people. Sasha, from Saskatoon in Saskatchewan, said that her Pug looked like Frank the Pug in the movie and that became his name. Frank was also the original thought for Oscar in Cary, North Carolina. They were waiting for their Pug to be old enough to be brought home from the breeder. But, as the time to bring their new family member home, they saw a sign at the breeder that advertised a lost dog named Toby. That became the name of his new Pug and Oscar says it is a perfect name because Toby makes them laugh every day.
And the movie "Milo and Otis" just had to be an inspiration for some Pug owners since that movie is about a kitten and it's Pug friend. Pamela from Glendale, Arizona was inspired and named her Pug after the mischievous (but very lovable) Otis.
The movie My Cousin Vinny was in the back of Alma's mind when it came time to name the Pug in her life. Alma lives in Orlando, Florida and tells us that the swirl in a Pug's tail reminds her of the classic painting by Vincent Van Gogh, Starry, Starry Night. She also liked the My Cousin Vinny movie and the name for her Pug combined the two. The result? Vinny Van Gogh-Bocaletti.
Carry, from Lemington, Ontario, liked the name Jacob from the book and movie Twilight. Jacob is now the name of his Pug.
Harry Potter became an inspiration for Rachel in Oxford, Mississippi. She named her friend after the character Luna Love Good. Her Pug is named Luna Pug Good!
And Jennifer, from Quebec, wrote to tell us that she was inspired by the movie "Shrek". Her little black Pug was a girl so decided on the name Fiona.
As we mentioned before, sports can be what triggers a name for your faithful friend. We named our Pug Floyd after Floyd Patterson but Tom Brady was honored in this fashion as well. Shawn from Brookfield, Connecticut has been a die hard fan of the New England Patriots since he was little so he named his Pug Brady after their star quarterback. Shawn tells us that Brady is a great friend and very sweet and lovable. We are not sure how many opponents of Tom Brady feel that way about him but Pugs are a whole different story!
The great soccer player Pele was immortalized by John from Edinburgh who comes from a family of football players. John said that Pele was the greatest player ever and we're sure he has similar feelings for his Pug Pele as well.
And the Chelsea football club (soccer in the United States) was the inspiration for Gagan from Maharashtra in India. His Pug carries the name Chelsea.
Caroline, from Auckland, New Zealand named her Pug Sachin (pronounced Sarchin)after the great Cricket player Sachin Tendaulker. Caroline says that the number one rated batsman is a legend in his own time - just like her Pug!
Mandy, from Newry in Northern Ireland, was watching horse racing when she was inspired by one of the names for the horses in the race. Luso became the name for her Pug and the name fit very well.
Candace, from Edmonds, Washington combined sports and food to come up with her unique name for her Pug. Her boyfriend had lived in New Orleans for a while and one of his favorite foods was gumbo. They had promised each other that they would get a Pug if the New Orleans Saints won the Super Bowl in 2010. Their Pug is a true New Orleans Pug named after the wonderful dish from that city and sports a very unique spelling: Gumbeaux.
Often the name of your Pug reflects what is going on in your life at the time. It can be a name that's part of where you live or represent a sports theme or even your job. Wayne, from Camden, New Jersey is a Sergeant on a New Jersey Police force. It shouldn't come as a surprise that he named his Pug Sarge. Thanks, Wayne, for protecting our community.
And the name Sarge is a recurrent theme in Pug names. Amanda from Hill Air Force Base in Utah tells us about her little Sarge. Of course, in the military you must be very formal so Sarge's full name is Sargent Slobber and, according to Amanda, the name fits him perfectly. Sarge even has a gortex military coat. Amanda has a second Pug, who is named Colonel Wentworth. Thank you, Amanda, for serving your country and good luck with your little corps of Pugs!
Susan, from Lewistown, Pennsylvania relates how her little black Pug got its name from their wedding coordinator. They were married in the Bahamas and the coordinator's name was Cutell. So they named their Pug Cutel Bahama Mamma. She's cute and they love her.
Wendy, from Rhinebeck, New York tells us that her Pug was born in nearby Cooperstown. She named her Pug Cooper and it fits his personality perfectly.
Casey is a dental assistant in London, England and the name for her Pug came from one of the patients in the office. The patient, who was about 80 and a little bit quirky may or may not know that he was the inspiration for Casey's Pug who sports the distinguished name of Reginald.
Shelly, from Grayslake in Illinois, tells us about one of her father's business associates who seemed to have more wrinkles than most people his age. His name was Braugh but the Pug was given the name of B'Rough.
Casandra, from Charlotte, North Carolina tells us about Quessie who was the nurse who looked after their great uncle Jack. The family was so fond of Quessie that it became the favorite name for the family Pugs. Casandra has Quessie V and her sister has Quessie VI.
Tamra, from Grand Island, New York tells us that she named her Pug Jennie, after her friend who brings such joy into her life. And Holly, from across the pond in Nottinghamshire, England tells about her Pug named Ez. Her Pug was named after her Uncle Ezra who had died and left her money to buy him.
Gail, from Tonawanda, New York has a daughter who named her Pug Dolores after Gail's mother. Dolores has a friend named Beatrice so when Gail got a Pug of her own she named her Beatrice Pugnatora.
Leslie, from Warren, Rhode Island, tells us a very interesting story that intertwines her own birth records with the story of how she chose a name for her Pug. In researching her own birth records at Town Hall she noted that her birth had been recorded as Lester Ann, male child rather than Leslie Ann, female child. Although her mother was horrified and wanted it changed, Leslie thought it was awesome and it inspired the name of her little friend - Lester Ann, Male Pug.
Melissa from Garwood, New Jersey tells us about her Stella who is her love. The name came from one of her children's favorite books, Stella Luna, that was about a mother bat that lost her baby. Melissa tells us that she thinks that Pugs are loving and devoted. We agree!
Novels can be an inspiration as well. Lizi, from Ypsilanti, Michigan chose the name Zooey from the novel Franny and Zooey written by J.D. Salinger who had just died.
Margaret, from Hanover Township in Pennsylvania drew her inspiration for a Pug name from literature as well. She named her Pug Li Po after the Chinese author.
Rebecca,from Greensboro, North Carolina was going to name her next baby Geno. Her and her husband got a Pug before their next baby and their little dog became their baby. And, yes, they named their Pug Geno!
Kim, from Salisbury, Maryland could not believe her husband got her a Pug for her birthday. In fact, she was so surprised that she named her Pug puppy Ripley after Ripley's Believe It or Not!.
Perhaps Cynthia, from Peters, Missouri, can relate to that because she had been after her husband for months to get a Pug. She kept reading all about these adorable little dogs and went down to the store week after week "just to take a look". One Saturday, there she was. The little girl Pug she was waiting for and she named her My Girl.
Chelsie, from Mildonhall in Suffolk, wanted a Pug for a long time and when she finally got she noticed her little friend was very excitable. One day she heard a bang and traced it to her daughter's where she found her Pug covered in chalk from the blackboard that had gotten knocked over. Ever since then her Pug has been named Chalky.
Stacy, from Jackson, Michigan thought long and hard about the name for her Pug and considered Chloe and Petunia. The name Daisy was also a possibility. In the end she decided she wanted a name that reminded her of the country. She came up with Daisy Mae.
Heather from Edmonton in Alberta had considered the names Chenelle, Miley and Daisy. Miley, however, seemed to fit her Pug the best. But, since one of her friends also had a dog named Miley, the name became MyLee just to be a little different.
Sometimes a Pug takes on the name of someone near and dear to us. Tammy, from Niagara Falls, New York name her Pug Suzie Q after her mother in law who passed away. It's a nice way to keep the memory of a person alive. And Kim, from Roseville, Michigan, tells us of the striking names that her mother and her mother's sister had. Her mother was Edna Gertrude and her aunt was Mary Clarissa. Their Pug is now named Gertrude Clarissa and she shouted out "I found Gertie!" when she found the perfect Pug. There is some thought in the family that there might be a laugh or two in heaven as mother and sister look down on their namesake wondering why anyone would want to call a Pug Gertrude Clarissa!
Sometimes the name you choose for your little friend is in memory of a Pug you may have had previously. Tanique from Federalsburg, Maryland says that their Pug is named after the Pug her husband had when he was little. They named their Pug Meeshe. Casey, from Phoenix, tells a similar story. Their Pug reminded her mother of the Pug she had named Chopper. So the new Pug became Chopper as well. As Casey says, it's nice to keep the name in the family. Tradition does seem to play a part in Pug name choices. Shannon, from Toronto, tells us that her fiance always had pets with names that began with the letter S. He finally convinced her to name their new Pug Spiderman! She now agrees that it's a great name.
Jerry, from Meade, Maryland relates a similar story. His first Pug was named Maggie which evolved into Maggie Moo. Sadly, Maggie Moo passed away before her first birthday. She was a victim of Pug Encephalitis. Getting another Pug was a must and she was named Miss Moo in honor of the first.
Ash from Fort Smith, Arkansas tells us about the Pug she got for her birthday. It was a couple of months after her husband had lost a dog. There was an instant attraction between her husband and the new Pug. They named their little Pug Abby Doodles. The Abby was for a father's joy and the Doodles was because their Pug was a little bit of a goof!
Letting children help in naming a Pug is also a great thing to do and it's very touching when they honor a deceased member of the family. Charles, from Lexington, Kentucky tells us about his children naming their Pug Mel because the letters are the initials of their grandmother. That makes Mel extra special.
Jamie, from Goshen, Indiana tells us that his son insisted that his first dog would be a Pug (a great choice!)and that he would name him Scotty. ScottyJoJo joined the family soon thereafter and everyone continues to enjoy his antics.
Andria, from Clinton Township in Michigan, has a six year old son who loves trains. He chose the name for their Pug and the name choice is very appropriate. Their Pug is named Diesel.
As you can see children play a major part in choosing Pug names and there almost an endless amount of stories. Kathy, from Telford, Pennsylvania, tells us that her daughter has two Pugs named Roger and Gretta. Although she had said she was going to get a Pug of her own, her daughter just laughed at her. Kathy grew quite close to Gretta and really bonded with her. She said that she needed a Gretta too. Well, when she got her Pug, Kathy named her Anita Gretta II. She has since added a black Pug and named him Pepper Coal Tar.
Carol, from Sutton in Surrey, tells us that her daughter picked out the name for their little fawn Pug. Because of the coloring and because he was so small and oval shaped when they got him, they came up with a perfect name: Peanut!
Cindy, from Lennox, South Dakota got her Pug on Christmas Eve from the pound. Although her Pug reminded her of a Hershey Kiss she was not quite sold on that name. Her son held the Pug on his lap and the affectionate new family member did nothing but kiss him. Isn't that just like a Pug? The only thing to do was to name the Pug Kisses!
And Clare, from Stourbridge in the United Kingdom tells of us of going to pick up her Pug who was going to be named Butch. Her son, however, had other thoughts. On the way home he decided on Bandit which turned out to be a fantastic name. Clare says that Bandit is the best addition to the family to date!
Samantha, from Dartmouth, Massachusetts, tells us another story about naming a Pug on the way to pick him up. On the way to the breeder, Samantha's father yelled out Rascal and that became the Pug's name. She says it fits the dog perfectly.
Something similar happened to Ashley in Benton, Maine. On their way home from getting their Pug everyone was suggesting names to try to figure out what sounded just right. Ashley's father suggested Maxx and the name stuck instantly. And, Max, by the way is another popular Pug name. Marcy from Springfiel, Illinois is an expert by now for naming Pugs. The names she has come up with so far for her four Pugs are Chico, Sebstian, Sopie and her latest: Max!
Katelin, from Kent City in Michigan tells us that she had to drive quite a distance to get her Pug. Many miles were covered in her trip from Michigan to Indiana. It was the inspiration for her Pug's name of Miles.
And Carla, from Cowpens, South Carolina was thinking about the price tag on her new family member. As we know, Pugs can be expensive (but always worth it!) so Carla added a little touch of humor to name choice. Her Pug is named Ching. That was a shortened version of "ca-ching!"
Nancy from Antrim, New Hampshire related a very touching story about their friend John who had ALS. Nancy named their dog Turner, after John, two months before John died. John loved having a namesake and when Nancy is asked about the name Turner she gets to tell the story about her friend John. Pug names are always a great source for conversation and sometimes the story that's related can be very meaningful.
Margo, from Caledonia, Michigan got her Pug, Mia, at about the same time her husband was being treated for cancer. In fact, her husband had just had surgery to treat his lung cancer. Since Pugs are Chinese in origin they decided to name their Pug Mia Nu Lung. Her husband lived for nine more years before he died. Sadly, Mia also recently passed away, dying in 2009 after abdominal problems. But I'm sure Margo has many great memories.
And,in keeping with the Chinese theme, Kimberly from Brooklyn, Maryland tells us that the Chinese origins of the breed inspired the name for her little guy who happens to be a black Pug. Her husband speaks Chinese and they came up with the name Heigou (pronounced Haygo) which, in Chinese, means black dog. They feel it is a very different name and very fitting. We agree!
Karen, from Nazareth, Pennsylvania, got her Pug Rosie to brighten up the life of her Golden Retriever who had become very ill. Rosie did exactly that and was so affectionate that Karen decided to become a multiple Pug owner.
Pugs can be a great support in difficult times. In fact, Kristin from Fort Collins, Colorado named her Pug Zhi Chi which is Chinese for support. From day one Zhi Chi has lived up to the name and has been a great source of support and Kristin's best friend.
Sometimes you know the name for your Pug as soon as you see your future companion. Julie from Lindenhurst, New York recalls that her sister knew they would name her Pug Sophie as soon as they walked into the puppy store and saw her. Why Sophie? She just looked like a Sophie!
Speaking of the name Sophie, how about a Pug named after another dog that was named after an entertainer? Amanda, from Peoria, Illinois wrote to us about a dog she had heard about named Sophie Tucker that swam six miles through shark infested waters to an island, where she lived for four months before being reunited with her owners. Amanda was inspired by that story enough to name her Pug Tucker.
And Michelle from Orlando, Florida describes how her new Pug immediately fell asleep with its head on her shoulder and started snoring. She told her Pug: "you're Mommy's Buddy" and the Pug's name became Buddy from that point on. And Buddy is also one of the more common names chosen for a Pug. Nathan, from Brisbane in Queensland says that was the name chosen for his little guy and it worked out well because he is, indeed, his best bud!
Holly, from Harrisburg, Pennsylvania tells us that the first time she held her Pug she could sense the bubbly personality her dog had. She knew there was only one name to choose: Bubbles!
And Kathryn from Fort Wayne, Indiana tells us about playing with her Pug on the floor when she just got. She would tug at her shoe laces and jump up and lick Kathryn's face. From that time on the Pug became known as Miss Tugs and Kisses. She calls her Tugs for short.
Tug became the name for another Pug as well. Judy, from Newfield in New Jersey, got her Pug and named her Tug knowing very well there would be other nicknames coming from her husband. Names like Tug the Pug, Tuggie and, of course, the Tugster.
Lola, from Ruckersville, Virginia thought about names and finally came up with Walter. As soon as the name occurred to her she knew it was perfect. Her Pug was going to be named Walter even if it was a girl!
Trevor, from Foster City, California tells us that he and his girlfriend are History and Anthropology students and wanted to come up with ferocious name for their little monster Pug. They knew they had the right name when they came up with Thor!
And Antonietta, from Richmond Ontario, went right to the top with her name. She wanted to have a Pug name that sounded really big because her Pug acted like he was a really big dog (sounds like a true Pug doesn't it?) so she chose the big guy from Greek mythology. Her Pug is named Zeus!
Nixa, from Salinas in Puerto Rico, tells us that her Pug's black round eyes reminded her of the ancient Egyptian makeup that was worn. It seemed appropriate to name her Pug Cleo after Cleopatra, the Queen of Ancient Egypt. After all, Cleo is the Queen of the House!
Nancy, from Lebanon, Ohio tells us that the name of her Pug was inspired because the dog reminded her husband of an old man so he thought up an old man's name for the dog. They chose Chester as a name for their little friend.
Melanie, from Kingsley, Michigan always wanted to go to Paris. Her baby Pug got the name of Paris and is the Princess of her house and she loves her madly!
Rachel, from New York City, actually dreamed about her Pug's name before getting him. The name Ramon came to her in a dream and it worked out perfectly. When she got her little friend she realized the face definitely went with the name. And Mandy, from Ventura, California writes to us about a dream that she had about a Pug named Molly that she was walking on a beach before her previous dog had passed away. Molly got tired of walking and just sat down. As Mandy looked up there was Crystal and although she hasn't found the Pug that she wants yet, the dog will be named Molly.
Jill, from Milwaukee, Wisconsin thought of her Pug's name nine years before she ever got him. So there was no doubt when her new friend came into her life he would be named Phillip!
That first meeting can be very impactful in selecting a name for your Pug. Tara, from Lynnwood, Washington had a few names picked out when she went to meet her six week old Pug. The snickering sound that the little guy made got her to think of a new one: Snickers.
And Robbie from Plainville, Connecticut writes about Molly who was the "runt of the litter". She was a black Pug who was cute and small and clearly needed a cute name that fit a little girl. Molly was it! And speaking about "runts of the litter", Jackie from North East, Maryland says that her Pug Shorty was also the runt of the litter. And you know what? She's very happy about that because Shorty is absolutely adorable and she is very happy that no one else picked her!
Sharon from Centereach, New York got her Pug from an adoption center (great thing to do!) and decided to keep the name. Her little Pug seems to fit the name and Capone is now a part of her family. And Capone might be a very popular Pug name. Lori, from Novi, Michigan tells us that her Pug is a Capone. Actually, it's Luigi Capone. Lori thinks Pugs look like little mobsters. She also likes the Italian name because her husband is Italian. Carol, from Stow, Ohio, got a rescue Pug (another wonderful thing to do!). The Pug's name was Roady and Carol added a "B" to the name to make it Brody. Sadly, Brody died only two years later from an aneurism. Carol's next Pug was named Cody as a remembrance.
Nancy, from Queens, New York rescued her Pug from a puppy mill (another great thing to do!). She got her Pug after losing her Rottweiler. She gave her new friend the name of Bella after just one look. Her Bella was just three months old when they got and discovered that she had scabies. Happily, Bella has been nursed back to health and she's doing fine. And Wally is another Pug who was a Rescue Pug. Robert from Kennewick, Washington said his Pug was already named Wally when he got him so kept the name. He says Wally is the best dog in the world and getting a Rescue Pug is one of the best things you can do!
Beverly, from Denmark, Washington will agree with that. She got a rescue Pug who was so scared the first night that he never left her side and just kept following Beverly from room to room. We think Beverly found the perfect name with Shadow. Thank you, Beverly, for rescuing Shadow!
And Melanie, from Glen Burnie, Maryland did a good deed as well when she got her Pug Pom mix from a Rescue Group. Since the dog looked much more like a Pug one her daughter's friend suggested the name Peggy the Pug. The Pug became Peggy Sue.
Michelle, from Mitchell, Georgia, did a wonderful deed by adopting a Senior Pug with the name of Shmeagle who is a character in the Lord of the Rings. Sadly, Shmeagle passed away but we're sure she enjoyed her later years with her new owner.
And there are times when your Pug knows best. Daniell from Oswego, New York brought her Pug home with every intention of naming her Ella. She called Ella many times but the Pug wouldn't respond. Upon hearing the name Bailey, however, the Pug snapped her head quickly in her direction. "Ella" has been Bailey-Rose ever since.
But, many times an owner names their Pug after they get to know him a little bit. That's what happened to new Pug owner Salah from Fishers, Indiana. His new Pug was silly and playful, reminding him of a character in the movie Madagascar named King Julian. That's how Julian got his name. Vanessa, from Ingleside in Illinois, watched her Pug go up the stairs. It reminded her of the way Bambi bounded through the forest. Her Pug's name is Bambii, with two i's. And that hasn't been the only Disney related story we've heard about. Julia, from Hampton Bays in New York named her Pug Jasmine after the Disney Princess as well as the nice smelling flower. She calls her Jazzy for short.
Sometimes Pug names can be a compromise. That's especially true when two people just can't decide on what to name their little friend. It happened to Colleen and Jim in Delaware. The result was a very distinctive name that sounds pretty cool: CJ Pug! In fact, Jim designed a logo for their dog that is shown on this page. We thank Jim for sharing CJ Pug with us!
Echo from Sacramento, California writes that Carmen San Diego was choice number one for a Pug name. However, Pugsley already came with a name so there was a little question about what to do. The perfect solution? Pugsley is registered as Pugsley San Diego.
Krysta from North Carolina wanted to have fun with the size of her Pug. She wanted to create a little bit of an oxymoron so she named her Pug "Diesel" and calls him "Big D". This is actually quite descriptive of this wonderful breed. The Latin phrase "multum in parvo" translates to "a lot in a little" which is exactly what attracts people to Pugs (other than the fact that they are awfully cute) - they are a lot of dog in a little body.
The name Diesel also appealed to Jona in Pennington Gap, Virginia. After seeing how their little guy seemed to plow through everything they chose the name Diesel. Pugs do seem very determined when they're focused on something.
And the name Diesel worked it's way into the naming process for Kay in Ridge, North Carolina. Kay likes to look at her Pug before deciding on the perfect name and also likes to giver her little guys a middle name as well. Well, her Pug looked like a Mack and then that triggered the search for a middle name to go with it. Her little Pug became Mack Diesel.
KD was the name chosen by Anna for her Pug and it stands for Killer Dog. Anna reports that KD likes to sleep, eat and go outside at her home in Fayitvall, North Carolina. Does that sound like any Pugs that you know?
Ebony, from Byram, Mississippi, had her first Pug, Sophia, stolen from her yard. She kept reciting the Serenity Prayer to get her through the loss. She now has another Pug who, some might say, was an answer to her prayers. She named the Pug Serenity.
Many people note how regal and handsome a Pug is and that can be an inspiration for a name as well. In fact, regal and handsome is exactly how Abriana, from Vulcan in Alberta, Canada, describes her Pug. She wanted to come up a name to match and she came up with a great one. Barnaby is the name of her regal and handsome Pug. We'll bet he's awfully cute too!
Pugs have been a favorite of royalty for many years and there have been many famous Pug owners. Sir Winston Churchill himself was a Pug owner and he would be pleased to know that a member of this adorable breed carries his name. Winston was the name chosen by Herlinda from Hope Valley, Rhode Island. She noticed how her Pug carried a resemblance to the great Prime Minister and name her Pug Winston!
And speaking of royalty, Ashley, from Fayetteville, Pennsylvania is a scholar and lover of Medieval History who wanted to reflect something from that area of interest or at least related. The two Pugs in Ashley's life received the names of Henry and Anne for Henry the Eighth and Anne Boleyn, one of Henry's wives. Even better, each of them got middle names from important battles: the male Pug is Henry Hastings and his counterpart is Anne Agincourt!
Napoleon has a special place in Pug lure because legend has it that Josephine's Pug bit him on their wedding night. Shewana and her son Hunter, who live in Laurel, Mississippi, thought that Napoleon would be a good name because the breed is small in stature and looks a bit militant. They also found out Pugs have their roots in royalty and were reminded about Benson, the regal butler in the television show. So their Pug's name is Benson Napoleon. Hunter prefers to call him Napoleon.
Kaya, from Madison, Wisconsin, thought her purebred Pug should have a regal name as well. She came up with Clarence Piggerton III. It certainly sounds distinguished and regal!
Darlene, from Amarillo, Texas, had the royal heritage of this incredible breed in mind when she named her Pug Duchess. Unfortunately her Pug wasn't impressed and just stared at her in response. So Darlene waited. Her Pug was due for her shots so she took her to the vet. Her Pug developed a case of the hiccups that still reappears at every vet visit. But it gave birth to her name of Miss Penelope Hiccup. Penelope because it could be the name of a queen and Hiccup because her little friend gets them all the time.
Pugs definitely stand out in the crowd. Debbie from Maxwelton, West Virginia says her Pug sparkles like a gem. With the marking a Pug's head taking the form of a diamond, it's no wonder that Debbie named her Pug Diamond.
Pugs are very striking in appearance. Their faces are cute and priceless. Besides the wrinkles, their eyes are one of their most prominent features. Some people have referred to them as bug eyes because they can be so prominent. Kaitlyn from Madison, Alabama thought so. Her Pug's bug eyes inspired the name of Bug for her cute little Pug.
And, Trina, from Wyoming, Minnesota, tells us that she was also struck by her Pug's beautiful eyes. But she went in a slightly different direction and named her Pug Marty after a comic actor also known for his eyes. Any guesses? Marty Feldman, of course. Part of their appearance, of course, is their unique coloring. The black coloring around their mouth can remind people of a black mask, the kind that robbers or muggers might wear for a disguise. That's exactly what Sue from Buffalo, New York was thinking when she named her Pug Mugsy.
As all Pug owners know, not only do Pugs have a unique appearance but they can also make some pretty unique sounds. Their little snorts can be very cute. Reignah from Minneapolis, Minnesota did a play on words in naming her little friend. She came up with the name Snurt. She explains that it's kind of like a snort.
There's no doubt that naming your Pug can be a serious business and we hear from many owners that they chose the name before they chose the Pug. After considering many different options they finally decide on the right one. But it isn't always easy. Trent lives in Mount Washington, Kentucky and tells us that he has a few choices for names but has gotten his Pug yet. He wants the name to be a modern one such as Kiki, Kilo, Koko or Lola.
And, speaking of Lola, that was the name chosen by Sarah for her Pug in London, England. Actually, she's called Lady Lola. We're pretty sure that Sarah likes Pugs because she got another one and named him Buster. Two Pugs are, indeed, better than one.
Lola, indeed, is a very popular name for a Pug. Robyn, from Nevan, Ireland, tells us that the whole family was discussing the name of her new Pug and Lola became the family choice. And, not far away, in Clydebank, Scotland, Marion tells that Lola was her name of choice for her Pug. It seemed to fit her because her new dog was cheeky and hyper. Marion also says that she sings the Copcabana song by Barry Manilow. The "show girl" Lola now has a Pug named for her in Scotland!
Lola, of course, was also the name of a character in the play Damn Yankees who sang the song "Whatever Lola Wants, Lola Gets". Cindy, from Ramsay, Minnesota tells us that song inspired her to name her little friend Lola. Cindy's daughter brought Lola into her life after her previous Pug Buddah had passed away. Lola now has a new home and is probably getting whatever she wants. Most Pugs do - they just have a way about them!
Multiple Pug owners have a special problem. Do they keep a theme with all of their Pug names? Kirk, from Flat Rock Michigan, named one of his three Pugs Moe after one of the Three Stooges. Did he name the other two Larry and Curley? No, Kirk went in another direction and chose Bogey, after his usual score in golf, and Bailey in honor of George Bailey, the hero of It's A Wonderful Life. Denise, from Egg Harbor in New Jersey, also has three Pugs. Harley is named after her boyfriend's motorcycle. Her second Pug, Hailey, got named because of the similarity to Harley. Her third Pug got his name from the fact that he barks a lot. Denise loves her three Pugs: Harley, Hailey and Barkley.
Petra from Ann Arbor, Michigan has two Pugs. She named her black Pug Cleo, after Cleopatra who had black hair and she named her fawn Pug Bear. Bear is a favorite nickname that Petra and her husband have for each other.
Kathy from Winnipeg, Manitoba also put the name Harley into the mix with her three Pugs. Harley, a fawn, was named after the Harley Davidson motorcycles and the dog's hard, muscular build. Her other two Pugs were black. One was a howler who got the name Bosco and the other, a girl, got a name when Kathy had a little trouble thinking of a third name. Her little girl Pug is now named Pugsy!
Sandy, from Belleville, Wisconsin, tells us about getting a boy and girl Pug from the same litter and trying to come up with a good "couples" name. She is very happy with Franklin and Eleanor and has decided that, if there is a third Pug in her future, the name has already been chosen. She'll name her third Pug Roosevelt.
Mellissa was originally from Georgia. While living in Japan she got a Pug and wanted to be reminded of home so she name her Pug Peanut to go with her other Pug named Pecan!
Liezl, from Middleburg in Mpumalanga, wanted names that go together like salt and pepper or ying and yang. Mugg and Bean were the chosen names and it's interesting to note that Mugg likes to drink more and Bean likes to eat more!
Tiffany, from Big Bear Lake, California is a Pug owner who sounds like she might be adding another little Pug to her house. But that won't be a problem. Her Pug Marleey, yes with an extra "e", was gotten around the time the movie Marley and Me came out. She likes the way the extra letter looks in her Pug's name. What would she name an addition? Tiffany confided that she likes the name Scrunch and we agree, it would be a cute name for a Pug.
Books can be another source of inspiration. There are so many unique characters in literature that the possibilities are nearly endless. Tanya from Wilkes-Barre, Pennsylvania tells us that she named her Pug Willow. That name came from a novel by Jodi Piccoult.
We also have heard from someone who went to tree names for the name of her two Pugs. Liz, from Manchester in the United Kingdom, writes of naming her two Pugs Willow and Olive.
We get stories from all over the world. Vinnie from Guam tells us about one of the first Catholic Chiefs in Guam. Quipuha (pronounced keepoowa) became the inspiration for his Pug's name. This certainly is in keeping with the distinguished heritage of this remarkable breed because the name goes back to the 17th century.
And Lauren, from Hereford in Britain, tells about how her small, little Pug just follows her around constantly. Does that sound familiar? Being with their owners, apparently, is a world wide trait among Pugs. Lauren chose the name Mine-Mee for her little friend.
Danica, from Burzebbugia in Malta tells us that she had her dog's name all picked out. She knew her dog would be named Maya but she did not know what kind of dog it would be. It turns out that the only dog her shop had was a Pug. We might be partial but we do not think you could have done any better than a Pug!
Sadly, we hear about owners who have recently lost their little friends as well. It is very heart breaking to go through the
loss of a Pug. Channa, from Renton, Washington, wrote to us to tell us about Gia, her little Pug who recently passes away and she will miss very much. Gia was named after a character from one of her favorite movies starring Angelina Jolie. People love their Pugs and have gone to great lengths to show it. Did you know that there are people who have named a website after their Pug and have created a part time income from it? Find out how to get a website for your Pug and create an income for life! Do you have a story about how you named your Pug? We'd love to hear it!